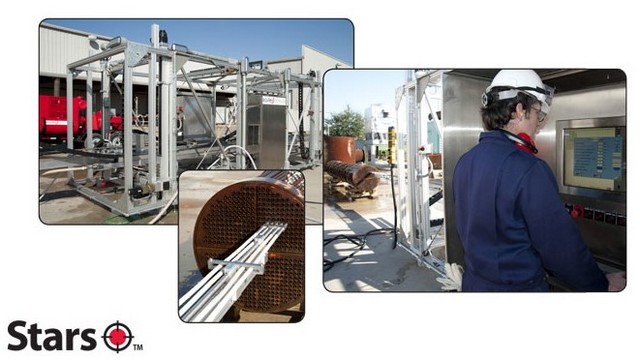 An example of a Yaskawa PLC-controlled Machine
Combining advanced robotics and custom built multi-lance tooling, the STARS high volume tube bundle cleaning technology eclipses all other systems in the industry. The STARS system produces the fastest and safest tube to tube cleaning rates while maintaining consistently better heat transfer rates throughout the entire bundle.
Five synchronized lances move in harmony with optimum feed and rotation rates determined by real time tube condition feedback.
Computerized tube mapping provides production gains that only a true robotic automation tool can achieve.
Can be run with as few as two operators who always remain out of the line of fire.
Sophisticated software bundle creates numerous detailed reports that map not just the tube face bundle layout but also initial tube status, cleaning speeds, progress reports and benchmarking criteria.
If you have a Yaskawa machine issue, contact William S. Howard with any questions -- at telephone 770-331-2283 -- we are always happy to help!
Yaskawa PLCs
Stability Technology is a specialist in Yaskawa PLC Control Systems used in industrial machines and machinery, as well as enhancement of existing machinery in a factory.
William S. Howard is experienced and accomplished at:
Programming a Yaskawa PLC

Servicing and Repairs of Yaskawa PLCs

Upgrading of Existing Manufacturing Lines
As a machinery specialist for 27+ years of experience with Yaskawa PLCs, William Howard is capable of improving, servicing, repairing, and updating machinery which uses Yaskawa control systems. He is a specialist in the Yaskawa MP920, MP940, MP2200, MP2300, and the IEC versions of the Yaskawa PLC.
Yaskawa PLC Services include:
Improving or Updating the Yaskawa Control System

Electrical Repair or adding additional Electrical Sensors and equipment

Designing and Installing Auxiliary Equipment
More examples of Yaskawa PLC-controlled Machines Developed by Stability Technology, Inc.